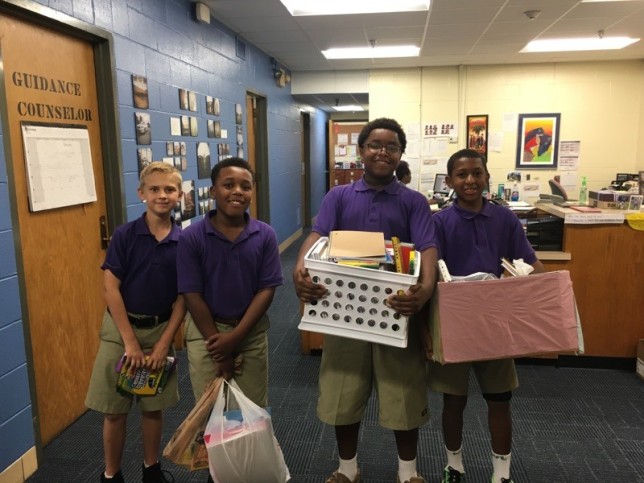 Donations of School Supplies Benefits West End School
Students at West End School were thrilled to receive the crates of school supplies donated by clients at Pilates Village. Jackie Rubin, who won the drawing for five free classes at the studio, requested that the supplies go to the school, which offers a free private education to boys from low-income families.

It's fitting that Jackie won the drawing because she has referred so many friends and family members over the years because of her love of Pilates. She attends two semi-private sessions each week at Pilates Village and often comes to group classes as well.

Thanks to everyone who contributed to this wonderful cause!

Next Stretch and De-Stress Workshop on Oct. 8
We have a few slots left in the second class scheduled for Sat. Oct. 8 from 2-3 p.m. This workshop will target common tensions in the neck, shoulder, and hips and feature exercises drawing from both Pilates and yoga traditions. Guiding the class will be Holly Holland, a PMA-certified Pilates teacher, E-RYT yoga teacher, and the owner of Pilates Village.

Each participant will leave with an illustrated set of exercises and other goodies. The cost is $35 per person. No experience is necessary, but registration prior to the start of class is required.

New Class Options Coming this fall
Christy O'Connell is back with a new Intermediate reformer class on Mondays at 9:30 a.m. Christy also will be taking over Lindsey's reformer class at 9 a.m. on Saturdays.

Holly Holland's Mat/Springboard class on Saturdays at 11 a.m. will become a Buff Bones® class featuring both mat and equipment exercises. Holly and Claire Greenlee are the only two teachers in Kentucky who are certified to teach this course, which is safe for people with osteoporosis.

Claire Greenlee will also be starting a Mixed Equipment class at 11:30 a.m. on Thursdays.